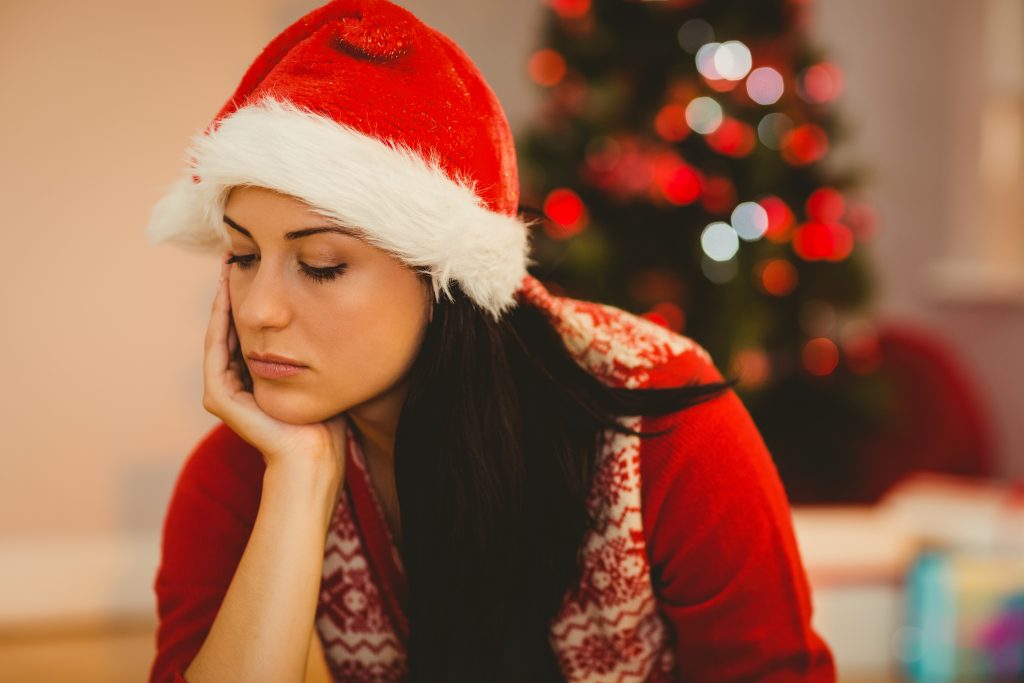 Are others looking forward to holiday cheer while you are dreading it? Grief, divorce, unemployment, declining health and other loss may leave you struggling at this time of year. "The LORD is close to the brokenhearted and saves those who are crushed in spirit," promises Psalm 34:18. Here are a few thoughts that we pray you will find helpful and comforting as you navigate this holiday season and the approaching New Year.
First, it's okay to have a range of emotions. Anger, loss, sadness, and maybe even guilt for moments of happiness are all normal. "Be merciful to me, O LORD, for I am in distress; my eyes grow weak with sorrow, my soul and my body with grief," explains Psalm 31:9. Chuck Swindell says, "Our Lord, Jesus understands better than anyone the silent cries of your internal pain." Meditate on His word and spend time with the "lover of your soul" in prayer and worship. "He heals the brokenhearted and binds up their wounds," affirms Psalm 147:3.
Take Care of Yourself.  Eat right. Exercise. Take a shower. Don't neglect self-care. Get the appropriate amount of sleep you need during proper sleeping hours. Don't stay up all night watching TV and sleep the day away. If you are having trouble waking, set your alarm. Watch your caffeine intake. During the holidays chocolate and hot cocoa are everywhere and will not help you to sleep properly. Even moderate increases in chocolate and alcohol can worsen depression symptoms.
Activity is important.  Ron Barnes, ACM Executive Director, also suggests that you "do something." Go for a walk. If you can't bring yourself to go to the gym and exercise, get dressed to work out and go stand in the gym even if you don't have the strength yet to exercise. This behavioral activation helps promote healing. The activity, the light in your eyes producing serotonin, and being around people will be therapeutic. As much as you may want to, don't isolate yourself. Invite a friend to lunch. If you can't stand to be around your family (or maybe you have none nearby), go to a public place and make an effort to connect socially. 
Focus on providing empathy for yourself.  Barbara Smith, ACM counselor, suggests that you ask yourself "What is most important for me this holiday season? Make realistic expectations for yourself. Decide what your goal is for Christmas. Do you want to work on self-healing? Do you want to use the time to cherish a loved one's memory?" Barbara says, "Make the holiday about your needs and wishes, not what society imposes on you. Life is not a Norman Rockwell painting.  Someone has to do the cooking and clean the dishes for those parties you see in the champagne commercials." "Recognize your limits and do not commit to activities that would be too difficult for you," adds our grief counselor, Jay Sperling.
Plan for the Voids. "What will you do to fill the voids?" Barbara challenges her clients to reflect on this question. For example, did you and your departed loved one eat a special coffee cake together each Christmas morning? Do you want to do it again this Christmas in memory of him or her? Has a recent separation or divorce forced a different type of void? Mary Jane Beatty, who has been serving struggling individuals at ACM for over 25 years, suggests that you might try to do something new. Make a new tradition. "Some of my clients are coming up with really neat ideas during our therapy sessions." Continue with the traditions that comfort you. Keep it simple this Christmas if you need to, but it is okay to try something new. Jay says to those grieving: "Realize the holidays will not be the same. It will take time to reinvent a new meaning for the holidays."
Volunteer to help others. God calls us to take the focus off ourselves and our own grief. 2 Corinthians 1:3-4 says, "Praise be to the God and Father of our Lord Jesus Christ, the Father of compassion and the God of all comfort, who comforts us in all our troubles, so that we can comfort those in any trouble with the comfort we ourselves have received from God." Barbara says that helping others is a "perfect healthy distraction."
Get Support. Surround yourself with caring and compassionate people. Let others help you. When you are a gracious receiver, you are ministering to those who minister to you. Make new friends. Connect with old ones. Many support groups are available in the Pittsburgh area. Divorce, Unemployment and bereavement groups are safe places where you will find an empathic circle of supports who understand. Ask your pastor for a referral or call Anchorpoint. We'd be happy to direct you to other appropriate sources.
It will get better. It may take time. It may take hard work on your part, but the New Year is approaching. Lamentations 3:22-24 promises, "Because of the LORD's great love we are not consumed, for his compassions never fail. They are new every morning; great is your faithfulness. I say to myself, "The LORD is my portion; therefore I will wait for him."
ACM is here for you. Learn about all of our support groups at this link.
One-on-one therapy is available with a professional counselor. Ron Barnes says that many individuals feel better after the first meeting simply because they've "made the first steps towards hope." One of our families in counseling writes, "Again, I will never, ever forget…all the help and encouragement you gave us those years ago when I thought my heart was breaking and I didn't know what to do. But, I always feel God puts you with the people and where you're supposed to be…those many trips to North Hills were a god-send."
We accept most insurances and offer an affordable sliding scale. Please do not let lack of financial resources keep you from seeking help. Call our office at 412-366-1300 to start the process of healing.
During this season and always, "…May the Lord of peace himself give you peace at all times and in every way." –  2 Thessalonians 3:16