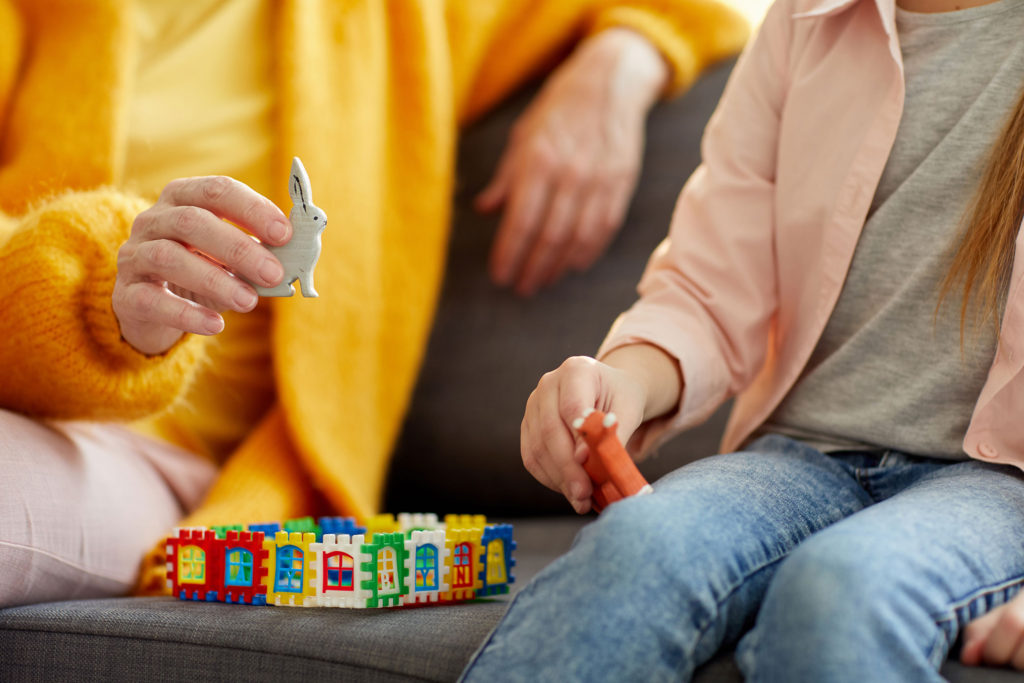 By Dan Priore, Marketing & Communications Coordinator
All parents can relate to their child acting out in public or throwing tantrums at times. However, when these disruptive behaviors become more aggressive and common, the challenging question becomes: is this just a phase they will grow out of or is therapy needed? And if so, who should I have them evaluated by?
One way to answer this question is considering what might have caused these outbursts.
Many behavioral issues in young children, such as intentionally breaking things or struggling to make social connections, can result from how they are cared for and attended to as babies.
Research shows infants experience toxic stress when they are not actively nurtured. This lack of support causes developmental delays, increasing the likelihood of mental health problems.
Maria Kitay, MSEd, NCC and a child and family therapist at Anchorpoint, says a parent can help their angry or depressed child by adopting soothing and praiseful strategies.
"When you have a child who has emotional dysregulation, you need as many support systems built at home as you can," Kitay says. "It can be a lonely experience, especially for young parents."
Anchorpoint's pediatric counseling services can help address these mental health needs through Parent-Child Interaction Therapy.
What is Parent-Child Interaction Therapy (PCIT)?
PCIT is evidenced-based therapy for young children with behavioral difficulties. It is designed to give parents the opportunity to learn calming and engaging skills based on daily interactions with their child. PCIT aims to help children cooperate by building secure relationships with their nurturing parents.
PCIT is a credible treatment approach because it requires daily documentation of a child's growth. With commitment over time, parents will visually see changes in their child's ability to manage their emotions.
PCIT is commonly completed within 12-20 sessions; however, this is based on consistent attendance and commitment.
PCIT is for children ages 2 to 7 who have difficulty communicating and act out behaviorally (e.g., temper tantrums, oppositional attitudes, destructive actions). Determining if PCIT is the most beneficial treatment for you and your child is between you and your mental health professional.
How is PCIT Different From Other Parent-Child Therapy Practices?
PCIT differs from other parent programs in the following areas:
There are specific parenting skills required to be developed and mastered.
Parents can practice these play-therapy skills in-session.
Parents are given live coaching and feedback on their learned skills.
PCIT is not limited to a certain number of sessions, with graduation determined on parents' demonstration of skills.
What Does PCIT Look Like?
PCIT is a coaching experience. You and your child are in a playroom while your counselor is in an observation room watching the interactions through a one-way mirror. Parents wear a "bug-in-the-ear" device allowing their counselor to give instant feedback and suggestions on ways to best develop the child's behavior.
Kitay says PCIT is grounded in reciprocal conversation.
"This is an interaction that has planning, meaning and has the ability to make a connection." Kitay says. "PCIT emphasizes that what your child says to you is important, and what you say to your child is important."
Kitay explains the process starts with the child doing something they like to do, and then the parent describing that behavior back to the child.
"You could say 'Good job,' but that's not enough," Kitay points out. "My feedback would be 'Good job about what?' Instead say something like, 'I like the way you picked up that pen, and you got right to work.'
It's important to describe the specific behavior that was observed that you were pleased with."
Positive evaluations and avoiding negative talk is critical to establishing a supportive back-and-forth with your child.
We are here to help during this difficult time. If you or someone you know is struggling with loneliness, anxiety, depression or other struggles, give us a call at (412) 366-1300 or use our Digital Intake Form to schedule an appointment today. Hope is only a phone call away. And to receive more resources like this, you can sign up for our Email Newsletter.